Today, we are thrilled to announce our $9.2 million seed round led by Accel to bring computer vision capabilities to companies across the globe! Notable angel investors and industry experts, Mehdi Ghissassi (DeepMind), Mihai Faur (UiPath), Remy Lazarovici (Celonis), James Isilay (Cognism), and Stef van Grieken (Cradle), also participated in the round.
This is an exciting milestone for us, and we look forward to the journey ahead. The investment will be used to further accelerate growing the team to serve customers worldwide, and to continue enhancing the computer vision platform's end-to-end and no-code capabilities. Check out our open positions and help us drive the next wave of computer vision adoption!
To understand the opportunity in front of us, and our customers, let's start by reflecting on the big shift underway in the world of computer vision.
Enabling Companies to Adopt Computer Vision
Computer vision is game-changing for companies in physical industries. Over the past years, the demand for computer vision-based applications has exploded in nearly every physical industry.
However, due to the high cost, complexity, and scarcity of technical expertise, many companies still aren't able to benefit from AI vision-based applications at scale.
Huge Untapped Potential of Computer Vision Applications
The range of use cases for computer vision is vast and highly disruptive, from changing how manufacturers automate quality assessments and reduce cycle times, construction companies track equipment usage, how logistics leaders measure shipments and detect damage to their vehicles, and how smart cities oversee infrastructure for traffic management or parking systems, to enabling restaurants to reduce waiting times in-store and at drive-throughs.
AI vision technology can turn images into information and insights, saving the many billions currently spent on cumbersome, manual inspection and observation processes. Explore more case studies and industry solutions here.
Computer Vision is too complex and does not scale
Recent advances across AI, GPU hardware, Edge AI, and deep learning have made computer vision far more accessible as algorithms become more accurate and easier to train. However, while the technology has been around for a number of years, implementation challenges have held back advances.
Every model trained will require a powerful infrastructure to run. Deploying and scaling these models in the field also requires significant infrastructure and hard-to-find expertise, which is a major barrier to enterprise adoption despite heavy industry demand.
Companies have often ended up with cameras and sensors limited to an isolated application, or hardware and ML models that can't be integrated and quickly become outdated. Others have been daunted by the time and investment needed to make systems operational, or the technical complexity of stitching together various tools – essentially trying to build their own AI platform from scratch.
At the core, all computer vision applications face similar technical challenges. That's why we've built an all-in-one infrastructure to enable businesses to implement computer vision applications dramatically faster, more successfully, and at lower costs.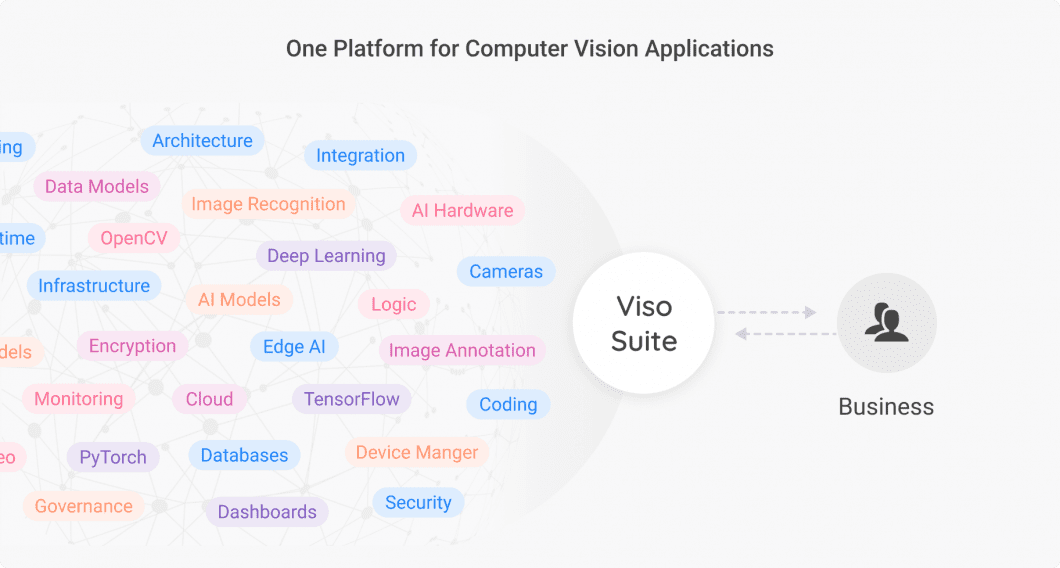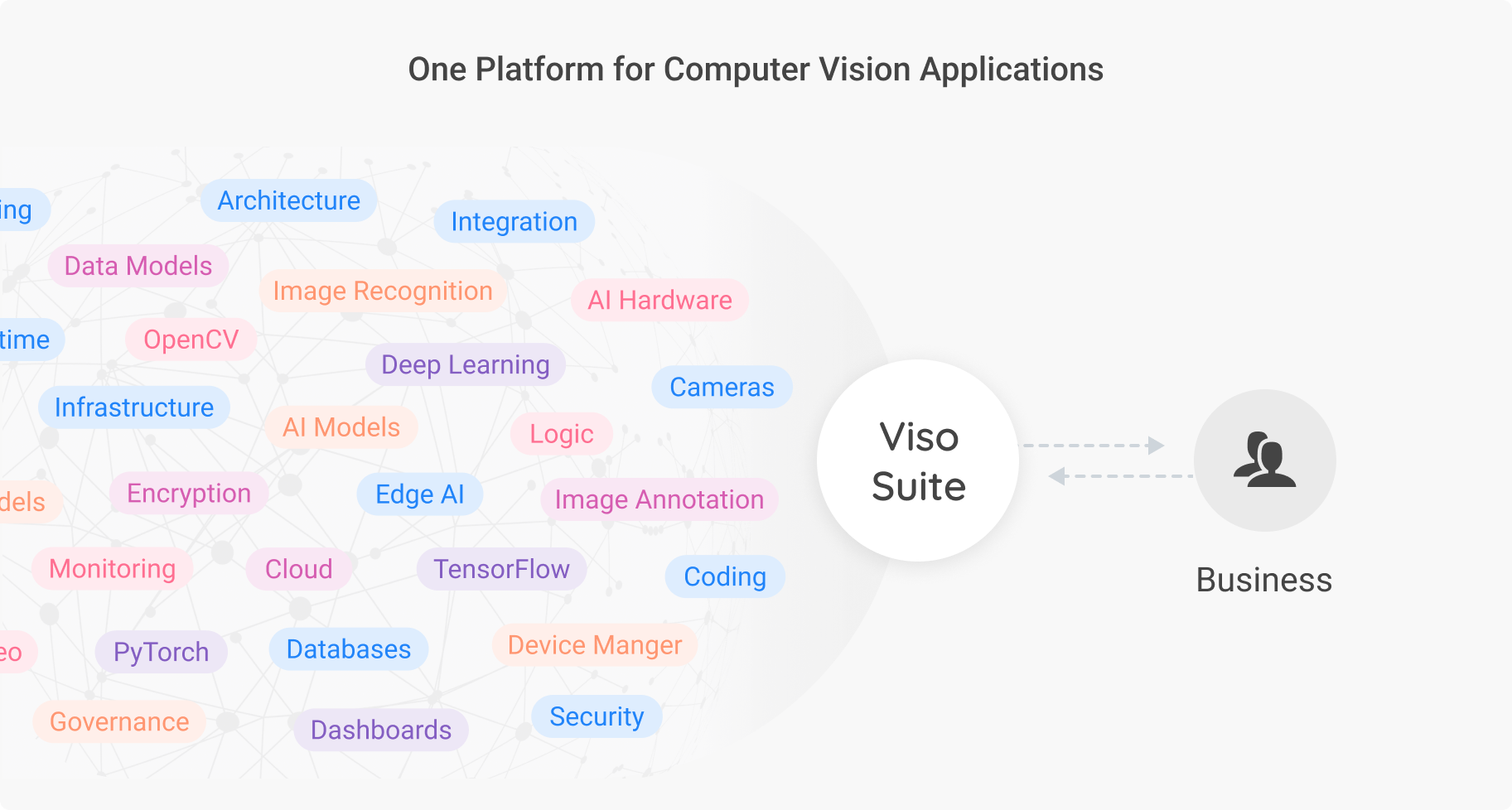 Viso Suite: End-to-end Computer Vision Platform
Viso offers a single workspace for businesses to develop, deploy, operate, and scale computer vision applications. Using Viso Suite, the end-to-end enterprise vision platform, businesses can build and deploy vision-based applications in days instead of months by abstracting and automating the entire lifecycle, across data collection, model training, pipelining, configuration, deployment, serving, and monitoring.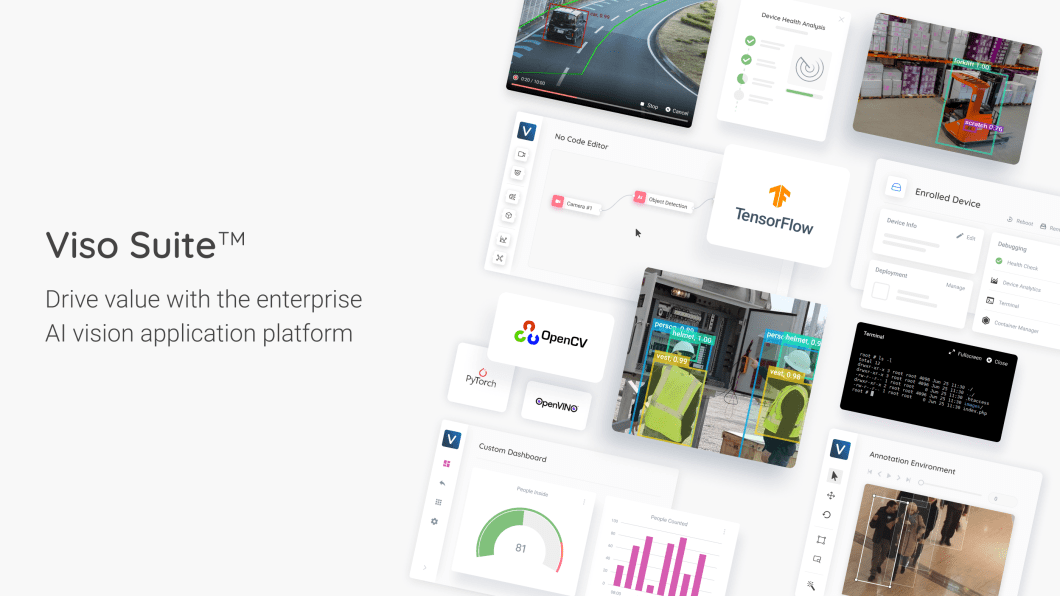 In a nutshell, Viso Suite's key capabilities include:
End-to-End Computer Vision: Viso Suite is the only true end-to-end infrastructure for the entire lifecycle of AI vision. It's not another tool; it's the infrastructure to build, operate, and secure computer vision in production. The modular and flexible architecture of Viso's platform is highly customizable, enabling businesses to build applications according to their own unique needs. The platform gives teams the ability to easily plug in their own best-in-class components (or use Viso's pre-built modules).
One Platform to Power All Applications: Viso is powerful enough to build and orchestrate all computer vision use cases and applications in one place. This enables strong learning effects because teams have to learn one product instead of dozens. It also enables companies to build up internal AI capabilities without giving up control of data and systems.
Visual No-Code Interface: Viso's solution allows businesses to unify tools, models, and data across the computer vision application lifecycle with an intuitive no-code interface and visual programming instead of writing and maintaining code. Powerful no-code and low-code capabilities make it possible to eliminate over 80% of the time spent on coding, saving 4 FTE per application.
Edge AI Infrastructure: The computer vision infrastructure of Viso is built to scale heavy computer vision workloads and operate multiple applications with 1000's of real-time camera feeds. The highly efficient AI architecture enables double-digit cost savings compared to conventionally built computer vision systems. Learn more about the economic impact of Viso.
Highly Extensible, Modular Ecosystem: Viso supports building all computer vision use cases, and integrating any existing camera (also conventional IP cameras), ML model, or enterprise system. This makes it possible to future-proof all applications and integrate them with all existing systems across the organization.
The Viso Journey Ahead
We founded Viso in 2018 with a mission to make computer vision widely accessible to all companies. Until launching the Viso Suite platform in 2022, we extensively battle-tested our infrastructure with companies delivering business-critical computer vision applications, processing over 40bn vision inferencing requests.
Over the course of the past year, the platform has gained impressive momentum, with over a 6x year-of-year growth in logos, making Viso the fastest-growing computer vision infrastructure.
Going forward, our goal is to become the global provider of AI vision infrastructure. We have already won customers around the world, in over 16 countries, with customers including PwC, A2A, DPD, DHL, and Orange, alongside several other Fortune 500 companies.
After successfully bootstrapping to date, and to meet the exploding demand for computer vision applications across industries, we are partnering with Accel to help expand our platform and bring computer vision capabilities to companies across the world.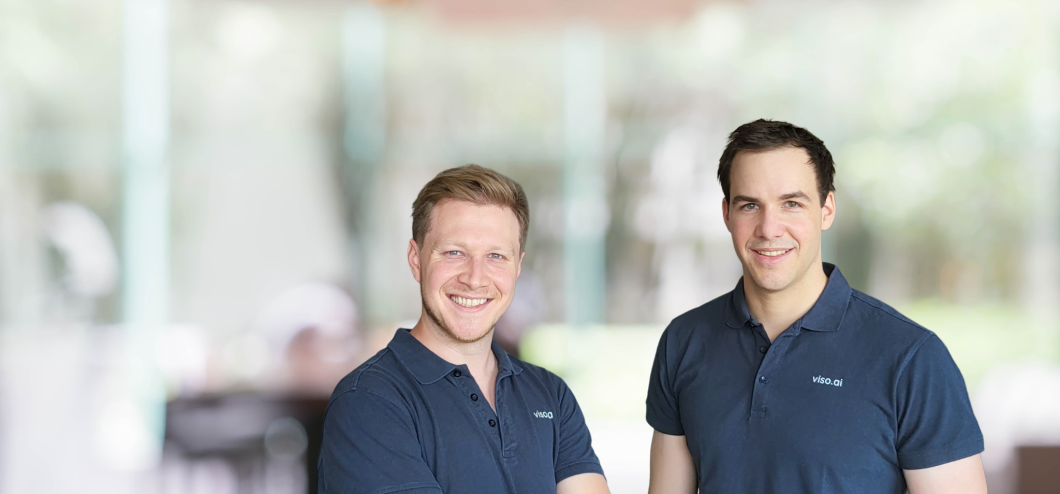 Our journey wouldn't have been possible without our incredibly talented and dedicated team, and all the customers and partners who have stood by our side.
Thank you for the massive support over the past years – and for joining us in driving the next wave of computer vision adoption!
Gaudenz and Nico
The Co-Founders
______
About Accel
Accel is a global venture capital firm that is the first partner to exceptional teams everywhere, from inception through all phases of private company growth. Arista, Atlassian, Braintree, BeReal, Celonis, CrowdStrike, Deliveroo, DJI, Dropbox, Etsy, Facebook, Flipkart, Freshworks, Jet, Kayak, Lynda.com, Qualtrics, Rovio, Rows, Slack, Spotify, Supercell, Swiggy, Tenable, UiPath, Venmo and Webflow are among the companies the VC firm has backed over the past 40 years. We help ambitious entrepreneurs build iconic global businesses. For more, visit accel.com or twitter.com/accel.