For the past decade, we have been on a journey with our customers to help them achieve digital transformation, which is business transformation empowered by cloud technology. With increasing excitement around generative AI — both for its potential and the impact it is already having — organizational leaders are eager to prioritize adoption that takes advantage of this next wave of AI transformation. At Microsoft, we are working with our customers to pragmatically assess and develop responsible, secure AI strategies focused on maximizing their investment while yielding desired business outcomes. With our differentiated copilot capabilities, customers can take advantage of the latest advancements in generative AI across the services they already know and love; and with the confidence they are building upon the most integrated, comprehensive and trusted cloud in the industry. Together with our unmatched partner ecosystem — from the ISVs helping shape industries to the digital natives that are disrupting them — we are building generative AI solutions that will unlock productivity and innovation opportunities for organizations everywhere. In many cases, we are co-innovating and co-developing custom AI solutions directly with our customers. As I look back on the past quarter, I am humbled by what we have achieved together and the incredible effort by organizations across industries to embrace AI transformation.
Organizations like 3M, Prada Group and Campari have been testing copilot features in Dynamics 365 and Power Platform firsthand, while General Motors, Visa, KPMG, AGL, Data #3, Bupa, NAB, Powerlink Queensland, Rest Super and Suncorp are now part of the Microsoft 365 Copilot Early Access Program. Our collaboration with IBM is helping clients accelerate the deployment of generative AI with its new Azure OpenAI Service offering, and we are enabling thousands of organizations like PepsiCo, Vodafone and Voya Financial with Azure cloud services through our expanded partnership with Oracle. To empower employees across 34 countries, Grupo Bimbo developed a solution with an integrated copilot in two weeks to help prevent non-compliance and save time when asking questions about company policies. All of Microsoft's AI-powered copilots are backed by our Copilot Copyright Commitments to extend IP and legal protection to enterprise customers who use these services, building upon our AI Customer Commitments.
Helping healthcare professionals and providers focus on patient care and support through secure data automation and training
By securely centralizing its data in an AI-powered intelligent data platform on Azure, Mercy is able to use generative AI to help patients schedule appointments more efficiently and better understand their lab results. Mayo Clinic is deploying Microsoft 365 Copilot to ease the burden of administrative demands on healthcare providers so they can focus on patient care, while Duke Health is partnering with Microsoft to responsibly and ethically harness the potential of generative AI and the Microsoft Cloud to redefine the healthcare landscape. To speed up care and improve patient experiences, MultiCare has automated its medication reconciliation process and increased efficiency by 175% with help from Microsoft and partner 3Cloud. By consolidating data such as lab results, medications and plan coverage in the cloud, Blue Shield of California is making services more accessible to members while reducing the cost of care. With help from Healthanea, France-based insurance company AXA is connecting hospitals, pharmaceuticals, health tech solutions and insurers to provide patients with reliable and accurate health information while protecting sensitive health data through the Microsoft Cloud for Healthcare. Paige and Microsoft are collaborating to transform patient care by building the world's largest image-based AI to detect cancer with higher accuracy. To ensure patient confidentiality and automate threat reporting, Hamad Medical Corporation is working with Mannai to proactively detect and respond to cyber threats while providing real-time visibility to its executives. Sanofi is improving training and collaboration for employees in different locations with HoloLens 2 — saving two weeks of training time for its production line operators and meeting increased demand for pharmaceuticals.
Empowering government workers, non-profit volunteers, students and teachers to expand social impact and save costs with data and AI
Working with AltaML, the Government of Alberta has built an AI-powered tool to help firefighting duty officers become more confident in predicting and sustainably managing the risk of wildfires, creating the potential to save up to $3 million in annual operating costs. In the U.K., Aberdeen City Council is making it easier for workers to access social care data within minutes to provide faster and more accurate service to vulnerable citizens while saving more than $2 million annually on manual data collection. To help ensure seamless service to citizens and prevent cyberattacks to critical infrastructure like traffic light systems and utilities, the City of Brampton is helping its IT team improve its cybersecurity maturity and reduce attack alerts by 70% with help from partner Difenda. To quickly scale the creation of thousands of audiobooks and reduce volunteer labor, nonprofit Project Gutenberg is making its e-books more accessible to people with visual impairments by using text-to-speech capabilities in Azure AI and Microsoft Fabric. German-based Nationalpark Bayerischer Wald is using AI to help research students pre-classify wildlife images in two days instead of 30 — saving 95% on the cost of wildlife monitoring and distance measurement. Working with teachers to offer more individualized support to students, New York City Public Schools has developed a secure, custom AI-powered teaching assistant on Azure OpenAI to answer questions and give real-time feedback.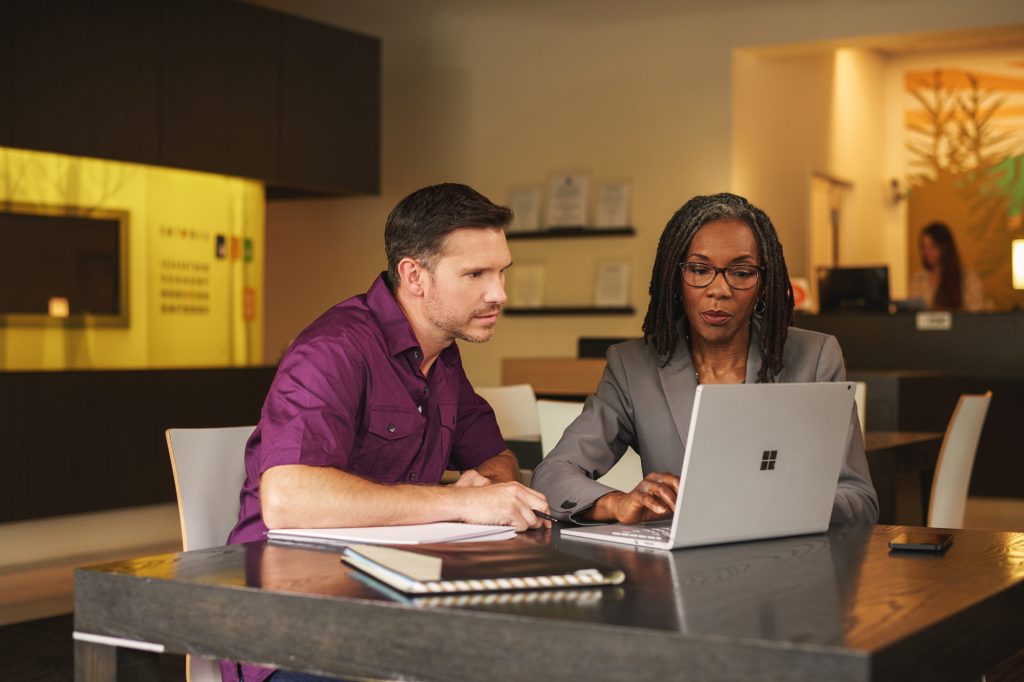 Providing financial services employees and customers with AI capabilities for more meaningful and personalized interactions
Ally Financial launched a proprietary platform as its foundation for generative AI innovation across the company, including live summarization of customer service calls so employees can spend more time focusing on customer interactions. With Azure OpenAI, Swiss investment firm Vontobel is boosting employee productivity in programming and data analysis, while automatic payments company Sem Parar is responding intelligently and contextually to customer inquiries to help them resolve their questions more quickly. Emirates NBD is empowering more than a thousand developers with its coding assistant leveraging the capabilities of GitHub Copilot X, while automating repetitive tasks and content generation for employees using Microsoft 365 Copilot. MetLife is helping pet parents access health records and connect with veterinary technicians more easily through its app built with AI-powered search and machine learning capabilities. With a focus on making financial services more accessible in Qatar, CWallet has saved $1 million by building its secure and compliant fintech platform on Azure to meet data regulations in the Middle East, and now plans to explore AI capabilities to simplify customer transactions.
Equipping manufacturing workers with AI-driven data and insights to improve customer support and streamline complex operations
Using Azure OpenAI, electrical equipment manufacturer ABB is integrating generative AI into its platform and applications to provide industry executives, specialists and engineers with real-time insights for better decision making and increased productivity. To reduce waiting time for customers, Dubai-based BMW Group importer AGMC is building an AI solution to more quickly locate and transport vehicles from its largest service center. By creating a scalable AI platform in Azure, Swedish steel manufacturer Epiroc is helping automate complex processes for its global employees to ensure consistent quality of its products, increase efficiency and reduce waste. Printer and imaging company Lexmark has improved its technician support efficiency by 20% with AI-driven predictive modelling, contributing to a 20% increase in customer satisfaction ratings. Xiaomi has developed an AI service bot with Power Virtual Agents to handle customer questions more efficiently and is better using Azure Translator to quickly generate product manuals in multiple languages. Indian textile company Arvind is leveraging the integrated AI capabilities of Power Apps to reduce sampling errors by 90%, production errors by 70% and order turnaround time by 30%.
Enhancing employee productivity and providing customers with AI-enhanced solutions across professional services 
Lumen Technologies is empowering employees across organizations with Microsoft 365 Copilot, making it easier for customer service teams to access repair manuals and helping sales teams summarize actionable steps from customer communications. In France, consulting firm Arthur D. Little is unifying its complex, unsorted data while maintaining data confidentiality and maximizing human capital — helping its consultants prepare for client meetings faster and curate presentation content in 50% less time. Jacobs Solutions is making it easier for staff to access and share high-quality data by integrating Microsoft Fabric with its end-to-end platform for seamless data management and advanced AI capabilities. INSPIRE Environmental is reducing costs and client turnaround time for image analysis of complex ocean data using Azure AI and machine learning. By leveraging Azure OpenAI, Orca Security is speeding up response times to customers and increasing data security while meeting regulatory compliance, Amadeus is working with Microsoft and Accenture to assist corporate travelers with trip logistics through its interactive assistant — as well as building a plug-in for Microsoft 365 Copilot, and professional services firm Atera is helping IT technicians focus on high value work while improving efficiency by 10x with its AI-powered platform.
Today's AI advancements have also generated new opportunities for digital natives to build upon their cloud-first strategies and shape the future of industry. To combat and identify cyber financial crime behaviors, SymphonyAI developed an AI assistant to help investigators securely and automatically collect, collate and summarize financial and third-party information. By applying AI capabilities across thousands of interactions each day, CallMiner is unlocking insights that empower organizations with a better understanding of the customer journey. Striving to be a leader in empathetic personal intelligence, Inflection AI is developing an AI chatbot that helps people accelerate development while reducing downtime. Building upon its cloud-based solution on Azure, Elastic is giving customers more focused answers to search queries by combining internal company knowledge with context from actual documents. With Azure OpenAI and Azure Cognitive Services, DeepBrain AI is cutting down chatbot development time and reducing manual processes while increasing language understanding and translation capabilities; while Commerce.AI has already started driving up to 50% increases in productivity for clients with its consumer sentiment analytics solutions.
We have a collective opportunity to put generative AI to work to help solve the biggest challenges facing organizations, industries and society today. Microsoft is helping customers and partners prioritize work and pragmatically innovate with generative AI to meet their most pressing business needs. From our unwavering commitment to building products responsibly and securely to how we engage with our customers and partners, I am proud of the trust we have forged along the way. Whether you are leveraging our copilot capabilities across the Microsoft Cloud, working with our partners to apply industry-specific cloud and AI solutions or seeking to co-innovate and co-develop to build custom solutions, I look forward to working alongside you to accelerate your AI transformation.
Tags: AI, AI Customer Commitments, Azure, Azure AI, Azure OpenAI Service, Copilot Copyright Commitments, Digital Natives, HoloLens 2, ISV, Microsoft 365 Copilot, Microsoft AI, Microsoft Cloud, Microsoft Cloud for Healthcare, Microsoft Cloud Partner Program, Microsoft Copilot, Microsoft Dynamics 365 Copilot, Microsoft Fabric, Microsoft Partners, Microsoft Power Platform, Microsoft Security, Power Virtual Agents