Image by Author
A lot of companies that were offering free access to their large language models (LLMs) are now putting it behind the wall. However, there are still some amazing free LLM playgrounds available that enable anyone to experience the latest AI innovations. 
In this article, we will introduce 5 user-friendly platforms where you can test and compare cutting-edge AI models at no cost. These free LLM playgrounds assist in writing, code generation, troubleshooting, and brainstorming.
With Vercel AI Playground, you can access top-of-the-line models like Llama2, Claude2, Command Nightly, GPT-4, and even open-source models from HuggingFace. You can compare these models' performance side-by-side or just chat with them like any other chatbot. In addition to free access, the playground offers additional information about models' context lengths and input/output pricing. It also provides API and Page code so that you can build your own chatbot app, similar to the AI Playground.
Image from Vercel.ai
Quora Poe is without a doubt my favorite AI assistant. As a data scientist, I rely on it daily to help with a wide variety of tasks from generating code to summarizing papers. Its capabilities seem endless. 
Beyond acting as my own personal assistant, Quora Poe gives everyone access to some of the most advanced conversational AI models in existence. Models like GPT-4, Claude2, Llama2, Sage, and PaLM can be explored with just a simple signup. You can provide an initial prompt to create a personalized bot or choose from shared community bots.
I highly recommend reading "Forget ChatGPT, This New AI Assistant Is Leagues Ahead and Will Change the Way You Work Forever" to understand how I use it for my day-to-day tasks.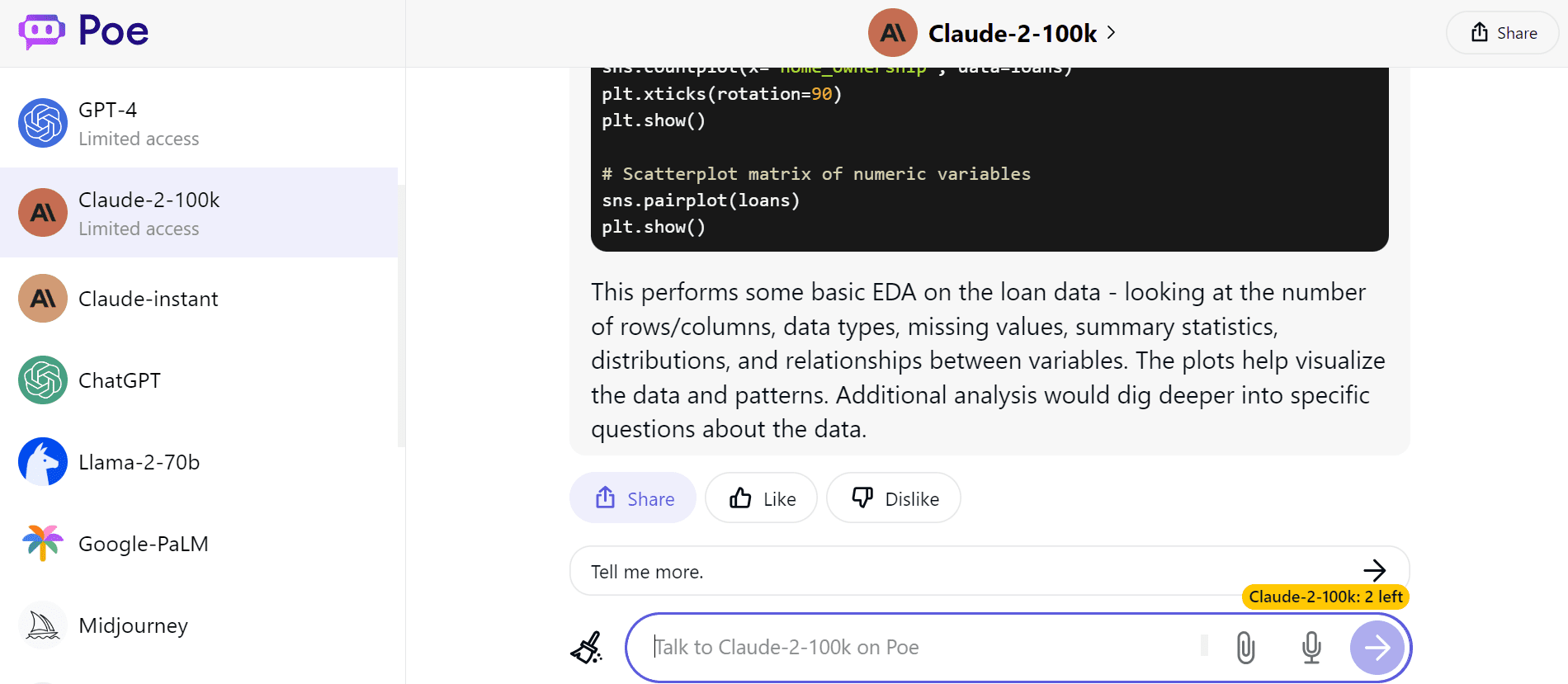 Image from Poe
GPT4ALL is a free and open-source AI Playground that can be run locally on Windows, Mac, and Linux computers without requiring an internet connection or a GPU. It offers users access to various state-of-the-art language models through a simple two-step process. All you need to do is to download and install the application and then download your preferred model. 
Image by Author | GPT4ALL
HuggingChat is an exceptional tool that has become my second favorite choice for generating high-quality code for my data science workflow. What makes HuggingChat even more impressive is its latest addition, Code Llama. With Code Llama integrated into HuggingChat, tackling mathematical problems and generating highly accurate code has become a breeze.
One of the standout features of HuggingChat is its open-source nature. This means that the codebase is freely available for users to view, modify, and contribute to, fostering a vibrant community of developers. Furthermore, HuggingChat provides a seamless integration with web browsers, allowing users to fetch results directly from the internet.
Image from HuggingChat
LMSys is a web application based on Gradio that allows users to try out various open-source models such as Vicuna, Alpaca, WizardLM, MPT-Chat, LLaMA2, StableLM, and FastChat-T5. Additionally, users can compare the performance of these models, and based on the leaderboard, GPT-4 is currently leading with an elo rating of 1206.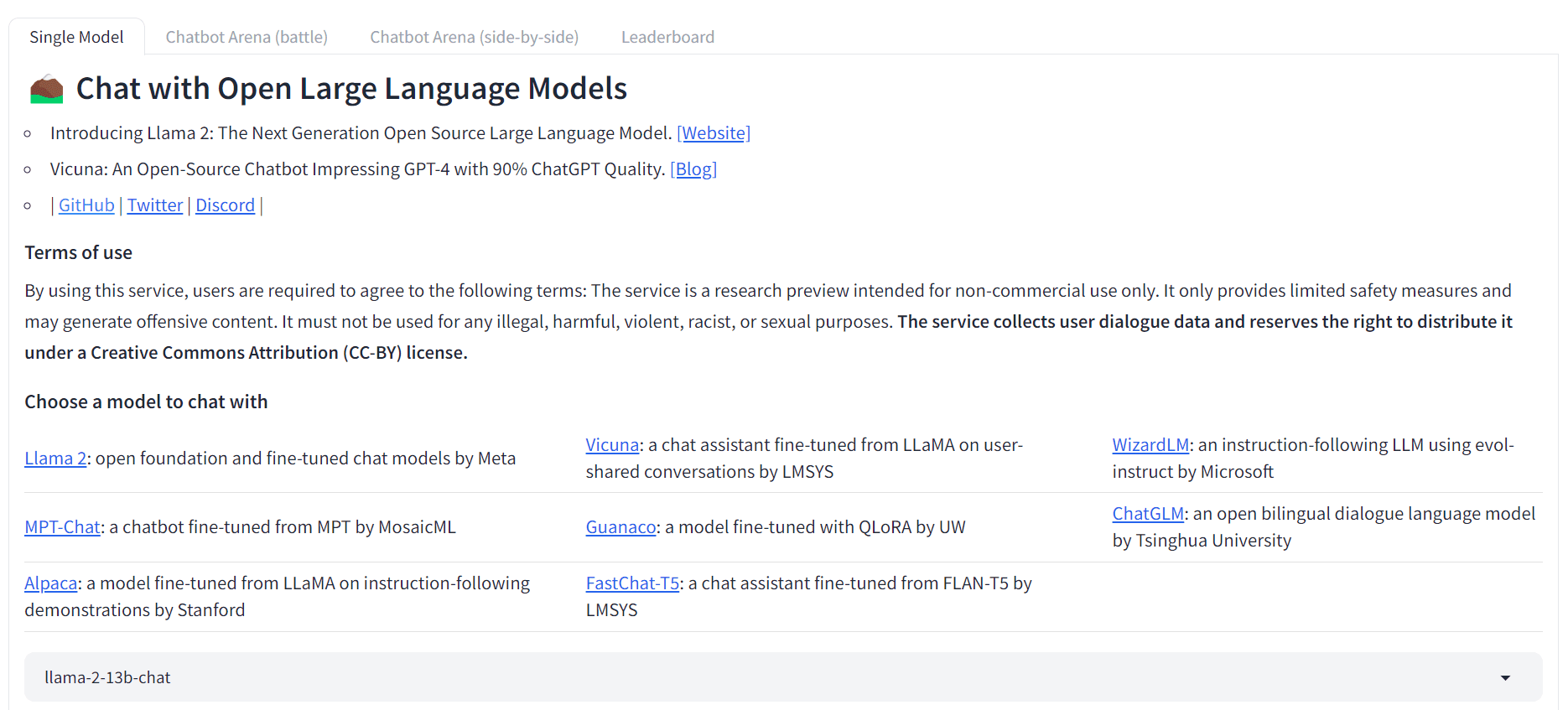 Image from lmsys.org
In this blog, we have explored the top 5 and my favorite AI platforms that let you use state-of-the-art large language models for free. These platforms prioritize privacy, enabling you to use them anonymously. You can use them to compare models or even use them to get your day to day work done. 
Please remember that there are people working hard to make technology open-source and accessible to everyone. You can support these projects by contributing or donating, which will help democratize AI.
 
 
Abid Ali Awan (@1abidaliawan) is a certified data scientist professional who loves building machine learning models. Currently, he is focusing on content creation and writing technical blogs on machine learning and data science technologies. Abid holds a Master's degree in Technology Management and a bachelor's degree in Telecommunication Engineering. His vision is to build an AI product using a graph neural network for students struggling with mental illness.